---
In the national wire and cable industry standard, all low-voltage power cable manufacturing complies with GB/T12706.1-2008, rated voltage 1KV
(Um=1.2KV) to 35KV (Um=40.5KV) extruded insulated power cable and accessories: Part 1 : The standard production of the rated voltage 1KV
(Um=1.2KV) to 3KV (Um=3.6KV) cable, the conductor of the cable is produced according to GB/T3956-2008. GB/T3956-2008 <Conductors for Cables>
There are clear provisions for the use of metallized or unplated annealed copper conductors or aluminum or aluminum alloy conductors. Resistant to
China's wire and cable current carrying capacity standard GB/T16895.15-2002 "Building electrical installations part 5; Electrical equipment selection
and installation Section 523; wiring system current carrying capacity" (equivalent to IEC60364-5-523), 523.1 Article 4, paragraph 3 states that the values
​​in the tables of this standard are calculated according to IEC60287, where the cable size is taken from IEC60502.
For cables of 1KV and below, the conductor resistance is taken from GB/T3956.
Product use range
Applicable to power cables of 35KV and below, not for control cables. For conductors that are in direct contact with high-temperature equipment, the
long-term use temperature is above 600 degrees. Only conductors with a length of 10 mm2 or more.
What are the advantages of aluminum alloy cable and copper cable
The advantages are reflected in safety performance, mechanical performance, service life and economic performance (see the previous section for
specific advantages).
Aluminum alloy cable is less than copper cable
Because the resistance of the aluminum conductor is not as good as the aspect of the copper cable
Since the aluminum conductor has a lower electrical resistivity than the copper conductor, the same electrical function can be achieved only if the
cross-section is larger than the copper cable, so the outer diameter of the finished product is 11% larger than that of the copper cable, which is the
main disadvantage of the aluminum alloy cable, but Regardless of the link of the device or the layout of the cable, this difference in size is within the
range allowed by the design.
Aluminum alloy cable application range
Aluminum alloy cables have been used for more than 40 years since their development and use. They have become a common practice in North
America. They have become a habit; they are widely used in high-rise buildings, civil buildings, star hotels, hospitals, theaters, conference centers,
libraries, museums. , government agencies, financial centers, radio and television centers, sports centers, industrial and mining, petrochemical,
airports, tunnels, subways, light rail, underground garages, civil air defense, ships, offshore oil platforms, aerospace, steel and metallurgy, shopping
centers, parking lots, etc. . Such as: Atlanta Olympic Stadium, Los Angeles International Airport, US National Security Agency and Defense Finance Center.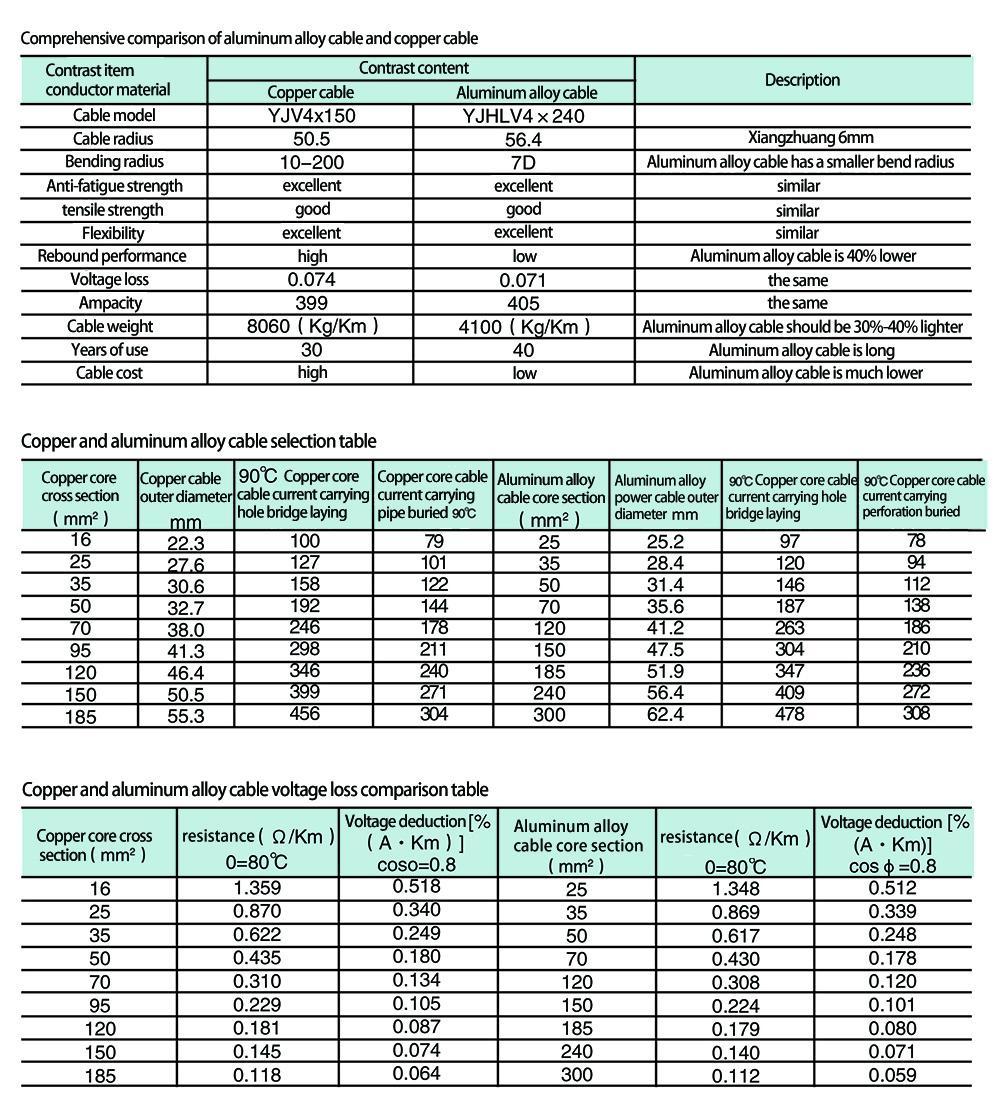 ---